Dalton UPS ES33 Series (10-120)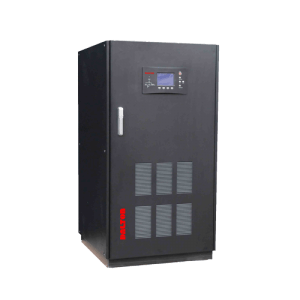 Dalton ES33 Online Double Conversion UPS 
Three Phase Input & Output With Isolation Transformer
10kVA – 120kVA
The ES33-Frindly Uninterruptible power supply is a combination 
of Dalton's advanced digital signal processor ( DSP) control technology 
and a firm pursuit of a green manufacturing philosophy.
With minimum space, fewer components and controlled levels of noise pollution. 
The ES33 Series has a significantly reduced environmental impact. 
Therefore, it is feasible to design a UPS with reduced carbon footprint whilst 
achieving clean, continuous power for medical,industrial and computing loads. 
– Output power factor 0.9
– Online double conversion
– 3 phases UPS allow 100% unbalance load
– IGBT inverter and output isolation transformer
– Fully DSP control, high reliability and performance
– Dual input supplies 
Model

ES3310
ES3320
ES3330
ES3340
ES3360
ES3380
ES33100
ES33120

Rating Power

9 KW

18 KW

27 KW

36 KW

54 KW

72 KW

90 KW

108 KW

INPUT
Rated voltage
380 V / 400 V / 415 VAC
Voltage range
346 V ~ 456 V ( full load )
304 V ~ 346 V ( Voltage rating 10% )
Rated frequency
50 / 60 Hz
Frequency range
50 / 60 Hz ± 5 Hz
Power factor
≥ 0.99
Total harmonic distortion (THDI)

≤ 3%

Input current-limiting
1.1 times of rated current ( 0.1 ~ 1.1 settable )
Rectifier delay start
10 s (1 ~ 300 settable )
Bypass voltage range
± 20% (settable)
OUTPUT
Rated voltage
380 V / 400 V / 415 VAC
Voltage regulation
± 1%
Frequency
Synchronized with utility in mains mode; 50 / 60 Hz ± 0.1% in battery mode
Waveform
Pure sinewave
Crest factor
3:1
Total harmonic distortion (THDV)
≤ 2% ( Resistive load); ≤ 5% (non-linear load )
Transfer time
0 ms
Inverter overload capability
Load ≤ 105%,long time work: 105% < load ≤ 110%,transfer to bypass in 60 min 110% < load ≤ 125%, transfer to bypass in 10 min 125% < load ≤ 150%, transfer to bypass in 1 min 150% < load ≤ 200%, transfer
to bypass in 200 ms 200% < load, inverter off (UPS shutdown) in 100 ms and transfer to bypass output
Slight adjustment of inverter
output voltage
± 5 V
BATTERIES
DC voltage
336-360-384 VDC
Number of battery
28-30-32 PCS
Charging current
Charging rate (settable) × battery capacity (settable) × number of battery group (settable)
Battery state display
Battery remaining capacity and backup time
Battery self test
Settable periodic self-test; manually configurable test time and voltage
SYSTEM
Efficiency
Line mode ≥ 94%, ECO mode ≥ 98%
Max. parallel numbers
6
Protections
Short-circuit, overload, over temperature, over voltage, under voltage, battery low voltage and fan failure
Communications
RS232 / RS485 / dry contacts (standard), SNMP (optional)
IP rating
IP 20
Display
4.3 inches LCD touch screen ( Optional )
OTHERS
Operating temperature
0 ~ 40℃
Storage temperature
- 25℃ ~ 55℃ ( without battery )
Humidity
0 ~ 95% ( non-condensing )
Noise level at 1 m
< 55 dB
< 60 dB
Dimensions (W×L×H) (mm)
450×790×1150
650×710×1450
700×780×1650
Net weight (kg)
146
160
200
260
460
570
630
690