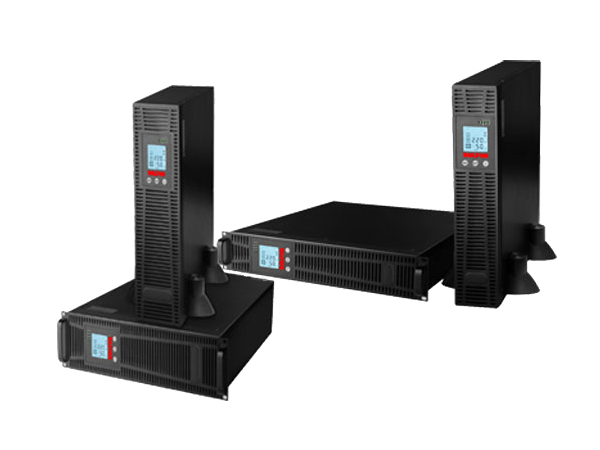 True online double conversion rack mounted UPS                                                                                                          1KVA – 10kVA
Dalton R10 is a unique range of high density UPS systems 
that can be installed whether on the floor in tower form or
in rack mount cabinet configurations powering a wide range 
of applications.
The R10 is an ultra efficient system resulting in improved operational 
performance up to 98% in ECO mode, 94% in inverter mode , 
providing a much greener product with smaller battery and longer
 autonomy backup times. 
Rack/Tower convertible design.

Double conversion ONLINE technology.

Filtered, and stabilized pure sine wave supply.

Advanced battery discharge management.

High efficiency reducing energy costs.

Extendable runtime. 
Model
R10
1K
R10
1KS
R10
2K
R10
2KS
R10
3K
R10
3KS
R10
6K
R10
6KS
R10
10K
R10
10KS
Rating Power
1KVA/800W
2KVA/1600W
3KVA/2400W
6KVA/4.8KW
10kKA/8KW
Input
Input system
Single phase & earth ground
Voltage range
(90±5)VAC~ (300±5)VAC
(120±5)VAC~ (274±5)VAC
Power factor
≥0.99
Voltage range of bypass
(80±5)VAC~ (286±5)VAC (default: 80VAC~264VAC Could be adjusted by software)
(60±5)VAC~ (300±5)VAC (default: 80VAC~264VAC Could be adjusted by software)
Output
Output system
Single phase & earth ground
Rated voltage
200V/208V/220V/230V/240V
Power factor
0.8
Voltage precision
±2%


Voltage distortion
≤ 3% at linear load
≤ 2% at linear load
Output waveform
Pure Sine Wave
Output frequency
Normal mode
1.The output frequency synchronizes with the input frequency when the input frequency is in the range of 46Hz~ 54Hz.
Battery mode
2.The output frequency is 50Hz when the input frequency is not in the range of 46Hz~ 54Hz.

3.Can be set as 60Hz.
Efficiency
85%
>90%
Inverter overload capacity

(Utility power, 25CO)
105% ± 5% < Load ≤ 125% ± 5% 50s transfer to bypass
125% ± 5% < Load < 150% ± 5% 25s transfer to bypass
Load > 150% ± 5%, 300ms transfer to bypass
Transfer time
0ms (Normal mode←→ Battery mode)
<4ms (Normal mode←→Bypass mode)
Crest factor
3:1
DISPLAY/ INTERFACE
LCD Display
AC/ DC voltages; kVA/ kW; Frequency; Temperature; Battery & load level
LED Status Indicator
Utility power; Battery discharge; Inverter On
External Communication
RS232 / RJ11 / Optional Intelligent Slot
Control
3 control push button for POWER ON / POWER OFF / FUNCTION KEY
Communication software
Windows XP/ 2003 and later version; Linux; Unix
Optional
SNMP Card/ USB Card/ Dry Contact AS400 Card/ CMC Card/ RS485 Card/ EMD Monitoring Device
Battery
Batteries voltage
36VDC
72VDC
96VDC
192VDC
192VDC
192VDC
192VDC
Battery Type
Sealed maintenance-free lead –acid battery
Backup Time (25CO)
Full load ≥ 5min (Standard)
Battery quantity
3
None
6
None
8
None
20
None
20
None
Charge current
1A
6.5A
1A
5.5A
1A
5.5A
1A
5.5A
1A
5.5A
L*W*H (mm)
482×746×88
482×650×132
482×650×132
482×650×132
482×650×132
482×650×132
482×650×132
Weight (kg)
16
10
33
10
37
10
55
20
62
21